Beberapa waktu lalu, saya pernah menyebutkan tentang koleksi kopi dan teh produksi Esprecielo di postingan Saya dan Secangkir Kopi. Nah kali ini, biar makin dikenal maka saya mau mereview beberapa varian produk yang pernah saya cicip. Here we go!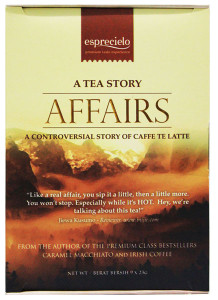 Affairs, A Controversial Story of Caffe Te Latte
Caffe Te Latte is coffee, tea, and milk that blended in a single serve. This varian is very unique. It smells coffee, taste like a cappuccino, but have a strong tea aftertaste. Just try it, and enjoy a unique sensation in your mouth !
Ini salah satu varian yang saya cicip pertama kali kenal produk2 esprecielo. Awal – awal ngerasain di lidah, rada aneh sih. Tapi lama – kelamaan, kayak ada rasa yang bikin pengen dan pengen lagi. Agak susah dijelasin sih, tapi enak kok. Buktinya teman istri saya malah pesen bag isi 14. Oh iya, Affairs ini tersedia kemasan Novel Box isi 9, dan Eco Bag isi 14.
🙂
Romance, A Passionate Story of Ceylon Red Au Lait
Ceylon Red Au Lait / Red Tea Latte with a creamy smooth foam on the surface. If you love Malaysian "Teh Tarik" or Thailand "Thai Tea Latte", you'll love this "Romance" for sure.
Dari deskripsi produk udah keliatan jelas kan, ini memang teh tarik. Cuma kalau udah nyoba secara langsung, baru kerasa kalau teh tarik versi esprecielo ini terasa lebih soft gitu. Buat yang gak suka terlalu manis, teh tarik Romance ini pas banget deh. Paling enak diminum hangat pas lagi gerimis. Untuk package, tersedia dalam kemasan isi 2, isi 9 (Novel Box) dan isi 14 (eco Bag)
🙂
ALLURE, An Enticing Story of Matcha Au Lait
Matcha Au Lait is Green Tea Latte with a milky-mellow foam on the surface. It's smooth texture give you a very rich experience in your mouth.
Nah, kalau ini bisa dibilang best seller dari koleksi tea-latte espreciello. Tag dibawah label sih Japanese Green Tea Latte, dan emang rasanya enggak diragukan lagi. Awalnya sih saya kurang suka dengan wangi nya, tapi lama kelamaan udah mulai terbiasa. Manis dan segernya green tea, dipadu sama lembut latte nya, wah banget. Diminum hangat enak, dibikin ice juga mantep. Kemasannya sama dengan Romance, dan varian ini merupakan varian tea latte yang paling banyak di order
😀
Nah, itu tadi tiga varian tea-latte dari esprecielo. Kalau ada temen – temen yang minat, bisa tulis komentar di bawah postingan ini, jangan lupa kolom e-mail diisi dengan email aktif kalian. Nanti saya hubungin deh.
Besok – besok saya akan review koleksi caffee-latte yang ada. Buat penggemar kopi seperti saya, pasti suka deh sama koleksi – koleksi yang ada.
😀